WAM-D (Local Reefer Tracking and Monitoring)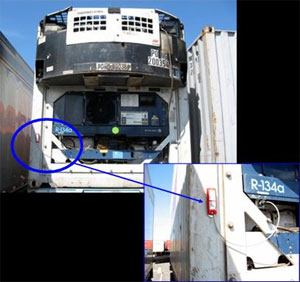 With the terminal and vessel operator in mind, MIS has developed a totally new type of wireless hardware and software solution called the WAM-D (D for detachable). Using long range RF, the device communicates with any asset it is connected to and allows for full two way control and monitoring.
The WAM tag is a self powered autonomous device that quickly and easily attaches to an existing data port connection, always present on reefer containers. The standardized quick latch connector allows the WAM to be connected in seconds and the device is fully self -contained, i.e. there is no external power connections required or are there any external antennas or other connections – simply connect and go.

With low cost, small physical size, efficient power management and easy of use as key drivers for the WAM-D solution, all reefer data, direct from the reefer micro, can be monitored and controlled remotely and integrated into any TOS (terminal operating system) or stand alone using the sophisticated graphical user interface.

Any reefer passing through a facility/vessel can have the small WAM tag easily attached and detached to provide this full two way wireless monitoring and control.
While in use, the tag attaches magnetically to the reefer frame and the serial cable connector to the reefer. The device can remain permanently connected to the reefer or be used in a temporary or detachable manner.
WAM-D System Elements
WAM-D Tag (reefer mounted – temporary or permanent)

A miniature, high volume - low cost, data acquisition control device with super efficient power management
Interface to sensors, micros and PLCs for monitoring and control
Two-way embedded LAN capabilities



WAM Reader Node (Terminal/Vessel/Yard)

Connects Tag to server using LAN or WAN
Works on vessel, in port, yard or rail ramp



WAM-D Software Application and User interface

Collects, decodes, disseminates & visualizes data
WAM-D System Deliverables
Reefer ID: Container and Micro number
Temperature: Set/Supply/Return
Reefer Alarms: All or selected, read and clear full alarm codes
Status: Reefer mode, condition and power source
Maintenance: Running Hours and other PM alerts
Control: Full micro control incl. remote set point change, start/stop pre-trip.
Download: Full micro downloads
Integration: Booking, Manifest, Terminal operating and planning systems, EDI and Web service supported
Web: Web based secured and tiered login
Notification: Email, Page, SMS alerts
WAM-D benefits:
New way of thinking - even though a terminal operator does not typically own the reefer equipment passing through its facility, new wireless technology is now available to help them take control without the reefer owner needing to be involved.


The WAM-D wireless solution can help a terminal operator achieve reduced labor costs, collect more timely and accurate cargo info, increase reefer integration possibilities with TOS and existing software and billing systems further reducing office based labor, improve protection against reefer cargo loss and increase data retention and reporting for all reefers handled.


This breakthrough technology can be easily integrated with NAVIS's TOS.


The WAM solution is a two way communications device, allowing communications from the tag, to the tag and through to the reefer.


The combination of the unique connection point and the device attributes opens up new opportunities for the reefer manger/operator. Operators can now consider using this solution in a detachable fashion for all reefers passing through their facility. They can 'see' all their reefers operating parameters any time, they can reduce labor required to manage reefers, they can reduce reefer cargo spoilage and thus insurance claims by knowing alarm conditions exist in a timely manner and directing labor to fix. These opportunities were previously not practical or economical with traditional solutions.