WAM-R (Global GPS Reefer Tracking)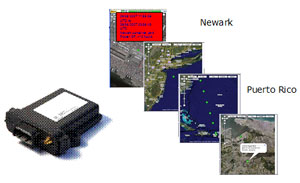 Overview
Focused on refrigerated reefer equipment and cargo owners, the WAM-R solution provides global visibility to locate, trace and control refrigerated assets.
Using globally available GSM/GPRS, any reefer equipped with the WAM-R device will provide constant updates as to the condition of the cargo and notify users immediately of any reefer alarms or door breach. WAM-R connects directly to the reefer micro processor so a complete picture can be obtained and full control can be achieved to set temperatures, clear alarms, get full data downloads and even start and stop pre-trips remotely.
Form Factor

The WAM-R has all the functionality of the WAM-D with the added benefit of continued communications not only in terminals but anywhere in the world. The WAM-R comes in two mounting variants – permanent and portable. The permanent variant is mounted in the cavity of the reefer controller compartment and 'hard' wired into the micro while the portable variant is packaged in an additional industrial enclosure and quick release connectors for temporary or trip based application.




Continuous Visibility

The WAM-R solution provides visibility throughout the intermodal transportation chain – Port, Rail and Road as well as having the unique ability to continue monitoring and reporting while onboard container vessels. This continuity of communications ensures that there are no 'holes' in the trip cycle and customers can rest assured that any alarms or breaches of the container will be notified immediately.

WAM-Central - User Interface

All raw wireless data collected from the reefers is processed through the WAM-Central software application and pushed through to the user interface. This highly interactive and graphical web based software provides the user with a birds eye view of all monitored assets grouped and displayed in logical and manageable screens.

Reefers can be managed individually with specific commands such as clearing alarms, changing set temperatures or starting and stopping pre-trips as well as continuously and automatically archiving reefer download data for future use in claims or other historical analysis.

WAM-R allows for hundreds of user defined areas (geofences) to be loaded and used to identify movement into or out of yards, ports, regions and customer sites of interest.
WAM-R System Deliverables
Reefer ID: Container and Micro number
Temperature: Set/Supply/Return
Reefer Alarms: All or selected, read and clear full alarm codes
Status: Reefer mode, condition and power source
Maintenance: Running Hours and other PM alerts
Control: Full micro control incl. remote set point change, start/stop pre-trip.
Download: Full micro downloads
Integration: Booking, Manifest, Terminal operating and planning systems, EDI and Web service supported
Web: Web based secured and tiered login
Notification: Email, Page, SMS alerts
Location, mapping, and tracing
Geofence movements
Door status reporting and alarms
Autonomous power survival
Reports & Data Delivery
The WAM-R solution delivers data in a number of different ways and there are many options for integration with existing customer software applications.
| | |
| --- | --- |
| Health Report | Report status all monitored points. Once per day, every other day, every week |
| Update Report | Update reports are triggered on movement or trip start/end (eg switch on to switch off with movement) or on configurable intervals and provide the status of all monitored points. |
| Alarm/Event Reports | Alarms/Events are reported immediately upon occurrence. Alarm/Event reports provide, at a minimum, the specific alarm/event information and the gps location. |
| Notifications | All alarms and/or events and status updates can be configured for email or sms/pager notifications |
| Trace Reports | View route traveled by asset and 'see' full fleet in one view |
All data can be delivered using WebServices interface
Web services uses XML to tag (code and decode) the data and SOAP to transport it.