Experience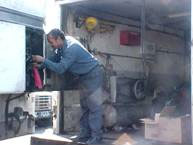 With our Rail Intermodal Dealership open 24/7/365 and trained and certified vendors and mechanics for all major equipment manufacturers – Carrier, Thermo King, Mitsubishi, CMIC, Onan, Kubota and Dakin - MIS is well positioned to provide a complete and qualified service.
MIS is currently responsible for all reefer movements for APL, Maersk, OOCL, NYK, Crowley, Stevens Transport, Sea Star, Pacer Stack Train, CP Ships and many smaller companies. We take all billing from vendors and have an extensive audit program to make sure all vendors are following procedures.
MIS sends one bill to the customer (the shipping line) every 15 days with a complete analysis of the current costs that explains any increase or decrease in costs. All the inspection information is provided in near real time on the web via Reefer-Watch, a completely in-house developed, sophisticated tracking and tracing software application that allows both our customers and support staff to monitor all activities. Reefer Watch is web based and has an open architecture allowing real time data feeds from our own wireless asset tracking solution (WAM) or any 3rd party device.
MIS is fully integrated with the BNSF for rail tracing and is in the latter portion of the same integration for CSX and the UP. This tracing info is connected to each load with the complete history of temps, fueling, repairs and any wireless information for your viewing on the web.
MIS is also integrated with Maersk, OOCL, Stevens and APL for a totally paperless system from prenote to billing of the units. We are implementing hand-held technology in the field for all vendors to expedite information flow. Mark-It Services monitors its equipment by exception basis and handles each problem as if it were our own commodity.

Please review our:
- Impressive list of satisfied, long term customers
- Nation-wide Coverage and & 24/7/365 Support
- Friendly and Experienced Staff
- Flagship Wireless Asset Management Solutions

- Genset Tracking
- Port Monitoring
- Container Tracking